So what is grid peak demand and why do you need to know about it? Here at Change Energy, we help our business customers in WA reduce their energy bills by finding efficiencies within their energy usage. Understanding grid peak demand and when these periods might occur, can help inform your energy behaviour and ultimately help to reduce your energy bill.
What is Grid Peak Demand?
Grid peak demand is a term used to describe the times of day (and year) when electricity consumption on the grid (in our case, Western Power's system) is at its highest. It's the 'peaks' in consumption and occurs when everyone is powering up their homes and businesses at the same time, turning on their air-conditioners, lights, appliances and TVs. This demand for energy can put a strain on our grid and in extreme cases, cause black-outs.
How Peak Demand Changes with the Seasons
Not only does our electricity demand fluctuate during the day, but it also varies throughout the year. In fact, the demand for electricity in WA is largely driven by our weather – the hotter it gets – the more us West Aussies like our air-con in the afternoon, and in the colder months, heating as we get up in the morning.
Energy Prices & Peak Demand
Among other things, the market operator, Australian Economics Market Operator (AEMO), is tasked with making sure that the entire grid system in WA can supply enough electricity at any given time to ensure we can keep the lights on. AEMO tracks the "peak events" throughout the year for each season, which in Summer is December to March (inclusive). They look for the top four days where the energy demand (measured over 30 minute intervals) reaches its peak. This data informs future investment in generation infrastructure and also affects the cost of electricity supply for businesses, in the form of capacity charges that are either included in the electricity prices or passed through directly on the bill. 
2021 Summer Peak Demand Events
There are four distinct days in a season we call the "peak events" and we don't know when these are until the hot season finishes on the 31st of March, 2021. We can usually predict these days based on the following criteria. Historically, peak events in Summer are usually:
About 4000MW.

On very hot weekdays (at around ~40 degrees).

Occur at around 5pm-6pm, when it's still hot, but solar production begins to drop off as the sun starts to set. 

Extra fact: as more solar is added to the grid, the peak will shift to later in the day.
Last year, the peak demand events occurred on very hot weekdays, with demand reaching 3925MWh (very typical during the height of Summer). Given this was the criteria last year, we would naturally look for these days as indicators of potential peak demand periods. So far this season, the highest peak occurred on the 8th of January, 2021. This day reached 3788MWh at 6pm-6:30pm, with temperatures reaching 42.2 degrees Celsius. 
We also recently experienced another predicted peak event on the 1st of February, 2021. This was a typical 'hot weekday' and became our 4th peak event for the Summer period. In fact, the other two predicted peak events on the 23rd and 24th of December, 2020 also occurred on hot weekdays when it was 40 and 41 degrees. 
Our predicted peak demand events so far this Summer (ranked by MWh):
08/01/21 6-6:30pm (hot weekday event)

23/12/20 6:30-7pm (hot weekday event)

24/12/20 5:30-6pm (hot weekday event)

01/02/21 5:30-6pm (hot weekday event)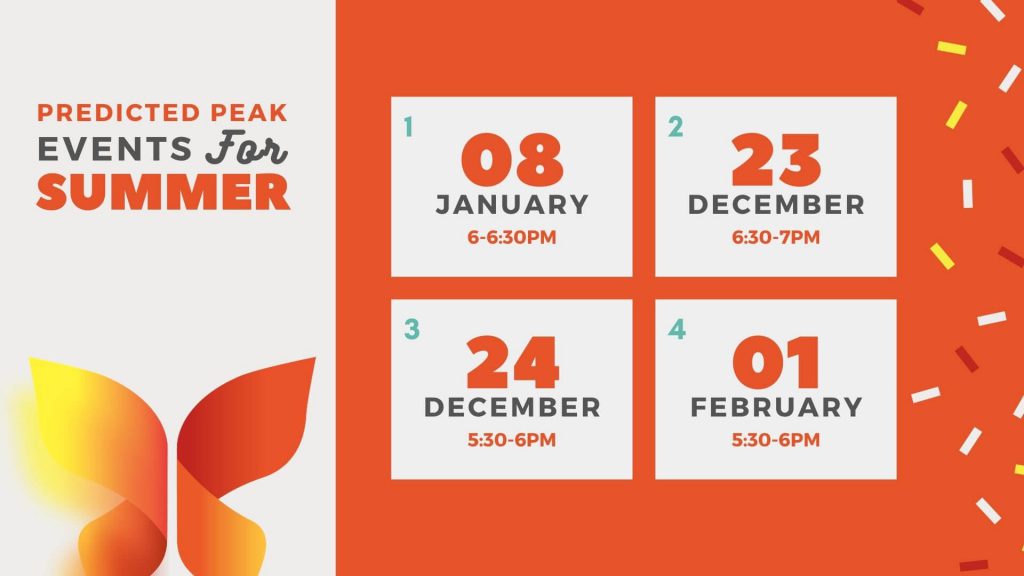 Renewable Generation & Peak Events
On the 19th of January, 2021 BOM's temperature forecast was only about 34 degrees, however this spiked in the afternoon to 36 degrees. Usually, this is not hot enough for a typical peak day, however the gusty winds blew in cloud cover which caused a drop in solar production (residential and commercial PV) and therefore spiked demand from the grid – driving up peak demand for the day from the expected approx. 3300MWh to 3542MWh. While this day is no longer in the top four peak events (it's currently ranked 5th), it's a good example of how cloud cover can lead to volatility in solar PV generation and can result in unpredictable spikes and troughs in electricity demand.
Peak Demand for the Rest of Summer
Unfortunately, we won't know for sure yet the top four peak days for the summer until the season ends on the 31st of March, 2021. However, there's a good chance that a 40 degree day will push demand past 4000MW. If you're looking at the weather forecast for the next week and there's some hot weather coming up (40+ degrees in temperature), if you can, make a note to reduce your energy consumption, as you could save money on future electricity bills. 
The Inside Scoop with Change Energy: 
If you're a Change Energy customer and you've signed up to our Summer Demand Management Program, then you're in luck. When we forecast a peak event will occur, our customers get the inside scoop and are alerted to reduce their consumption to help them save on their energy bills. For some customers, this means saving up to 30% on their bill (capacity can typically account for up to 30% of the bill). This service is free to all Change Energy customers and is just one of the ways we help them find efficiencies in their business.